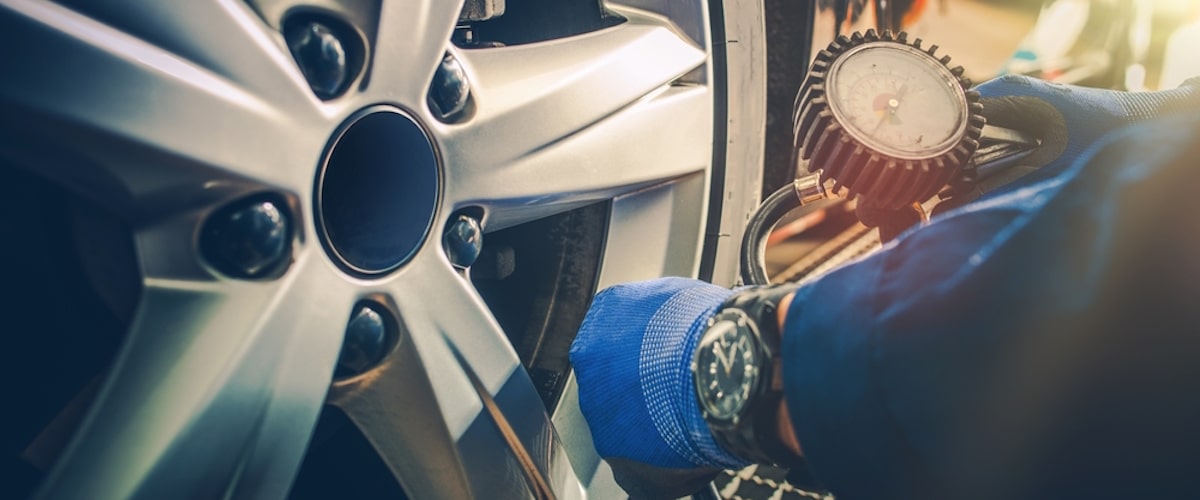 Schedule Ford Service
If you see the TPMS light illuminate on the dashboard of your Ford, it's time to take a look at the inflation of your tires. This light comes on to let you know that something is amiss with your tire pressure, which is commonly affected in New Jersey at this time of year. Tire pressure can fluctuate thanks to changing temperatures throughout Autumn, where the mornings start out cooler (causing air to contract) and get warmer (causing air to expand), as the day goes on. 
However, your TPMS light could also indicate a tire leak, so it is important to monitor your tire pressure and add air to reach the proper inflation. You can easily locate recommended tire pressure for your Ford inside the driver's side door jamb. If your Ford is missing this placard, check your owner's manual or come out to our Burlington Ford service center and let us assist you with any tire repair needs.
Finding The Correct Tire Pressure 
Driving with underinflated tires can create issues that interfere with fuel economy and overall vehicle handling, as well as disable certain safety features. You won't be able to tell that your tire is underinflated just by looking at it, so if it looks underinflated to the naked eye, you could have a more serious tire pressure issue. You'll want to make a habit of checking in with your tires monthly to make sure they aren't under or overinflated. 
Check on the inside door jamb and find the recommended pressure, which is measured in pounds per square inch, or psi. Be sure not to confuse this with the number listed on the tire itself, as this is the maximum pressure the tire can hold, not the recommended pressure for everyday use. The recommended psi should be measured when tires are cold, so it is best to check after your car has been parked overnight or for at least a few hours. You can use a tire pressure gauge to compare the current psi of your tires with the recommended value. 
Let Lucas Ford in Burlington Assist You With Your Tire Pressure
If you are having trouble locating your psi or are unsure of how to accurately determine your tire pressure, schedule an appointment at our Ford service center in Burlington and have one of our professionals assist you. We can let you know exactly why your TPMS light has illuminated and assist you in making sure your tires are properly inflated before you head back out on the road. If a tire needs to be patched, we can help with that too.
For more information, don't hesitate to contact us today!
Schedule Ford Service