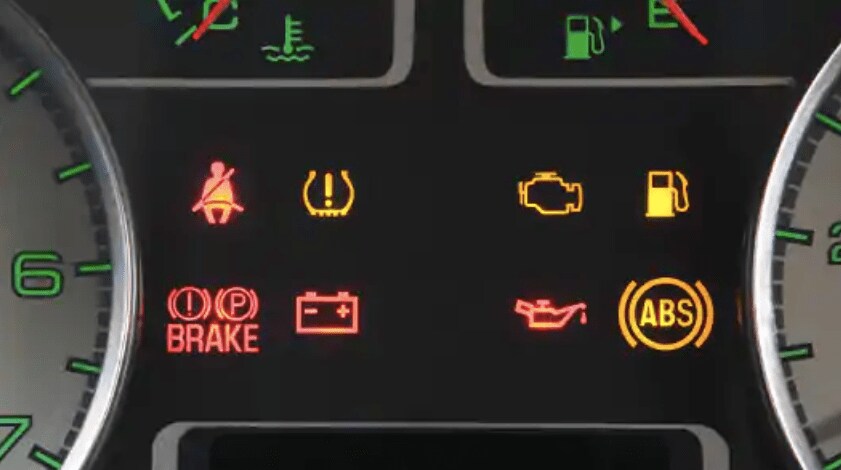 Schedule Service
If you take a look down at the instrument cluster on your Ford's dashboard, you'll notice that it's equipped with a variety of distinctive Ford warning lights and indicators that allow you to monitor your vehicle's condition and control settings. If you're unsure what each icon means, however, our Lucas Ford dealer, which conveniently serves the Burlington area, has provided you with a visual glossary that displays these warning indicators and defines their functions.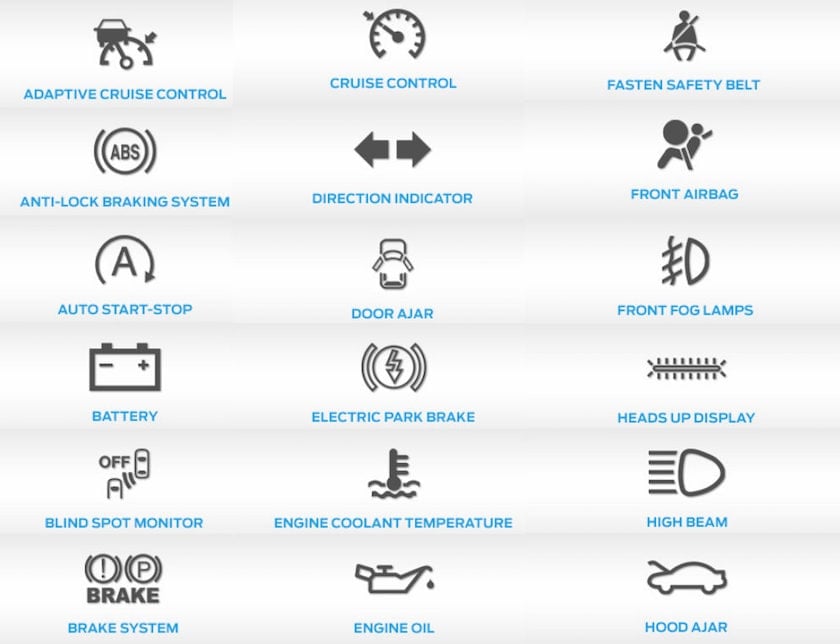 Adaptive Cruise Control: If this icon illuminates in white, it means that your adaptive cruise control system is turned on. If a green light is displayed, it indicates that the adaptive cruise control system is engaged (or actively in use).
Anti-Locking Braking System: If Illuminated while you're driving, a malfunction is indicated in the braking system.
Auto Stop-Start: This icon illuminates to alert you when your engine is shutting down.
Battery: If Illuminated while driving, a malfunction is indicated. Switch off all unnecessary electrical equipment, and have our Lucas Ford dealer in Burlington check the condition of your battery.
Blind Spot Monitor: Illuminates when the Blind Spot Monitor feature is turned off.
Brake System: Illuminates if the parking brake is engaged while the ignition is on.
Cruise Control: Illuminates when the Cruise Control feature is turned on.
Direction Indicator: Illuminates when the left or right turn signal, or hazard warning flasher, is turned on.
Door Ajar: If the indicator lights up when the ignition is on, one of your doors is open.
Electric Park Brake: Lights up when the electric parking brake has a malfunction.
Engine Coolant Temperature: Illuminates when the engine coolant temperature is high. Stop the vehicle as soon as possible, switch off the engine, and let it cool.
Engine Oil: If illuminated while the engine is running or you're driving, a malfunction is indicated. Stop your vehicle as soon as it is safe to do so, and switch the engine off. Check the engine oil level.
Fasten Seat Belt: Lights up while a chime sounds to remind you to fasten your safety belt.
Front Airbag: A malfunction is indicated if this warning light fails to illuminate when you start your vehicle, continues to flash, or remains on. Have the system checked by our Ford dealer.
Front Fog Lamps: Illuminates once you have switched the front fog lamps on.
Heads Up Display: A horizontal array of red lights may appear on your windshield while you're using adaptive cruise control and/or the collision warning system (if equipped).
High Beam: Illuminates when the high beam headlamps have been switched on.
Hood Ajar: Alerts when the ignition is on, and the hood is not completely closed.

Lane Keeping Aid: Lights up when the lane-keeping system is activated.
Low Fuel Level: Illuminates when the fuel level is low, or the fuel tank is nearly empty. Refuel as soon as possible.
Low Tire Pressure: Lights up when your tire pressure is low. This indicator also illuminates momentarily when you switch on the ignition, showing that the lamp is functional.
Parking Lamps: Illuminates when you switch the parking lamps on.
Powertrain Fault: Illuminates when a powertrain or AWD fault has been detected.
Service Engine Soon: If the Service Engine Soon indicator light stays lit after you've started the engine, the On-Board Diagnostics system (OBD) has detected a malfunction of the vehicle emissions control system.
Stability Control: Lights up when the system is active. If the indicator remains illuminated or does not light up when you switch the ignition on, a malfunction is indicated.
Stability Control Off: Illuminates when you switch the system off.
Trunk Ajar: Displays when the ignition is on, and the trunk is not completely closed.
Schedule Service at Lucas Ford in Burlington
If your vehicle is displaying any of the aforementioned warning icons and you would like to schedule a service appointment to have our certified Ford technicians address any issues your vehicle may be experiencing, simply contact us here online, give us a call, or pay us a visit in person here at Lucas Ford.
Schedule Service